Axis controller with integrated PLC with up to 48 inputs / outputs
SU112 is the low cost Axis Controller with included  PLC  made by  Arteco Motion Tech.
Minimum configuration: 2 interpolated axis with included sensors, 16  in, 16 out, 2 analog input and  1 serial port RS232/485.
Thanks to the slots located in the back side of the multiaxis controller, SU112 can be configurated depending on the user's needs. There are 4 slots available. Each slot can receive the available expansions boards as the  8 digital input + 8 digital output, the 1 axis expansion, 2 axis expansion, the 8 digital input + 8 digital output + canbus port.
So, the maximum configuration can reach 5 interpolated axis with included sensors, 32 in, 32 out, 2 analog input,  2 serial ports RS232/485, 1 CANbus  port to connect the controller to other Axis and I/O expansion modules for distributed I/O and Axis.
Each state of the I/O  is shown by LEDs located near each terminal block.
SU112 provides the 8 rows x 20 characters LCD display with backlight feature. The display and the keyboard can be controlled using the implemented functions and instructions of the PLC.
A rich set of graphics and text commands allows  the user to make his HMI,  100%  according to his needs.
SU112 can be programmed using a rich set of  Motion Control Functions: Simple positioning, Linear interpolation, Electronic cam, Boolean cam, Optimized trajectories generating starting from a points series, Rotative Axis, Control of Pick and Place machines, Circular interpolation, Self-learning and  its  execution.
Other important features: remote programming like debug, service and upgrade using the low cost WEB interface, built in  modbus RTU protocol for connecting the Axis controller  to  SCADA and other common HMIs.
Prices from € 605.00, ex works.
Motion Control functioning scheme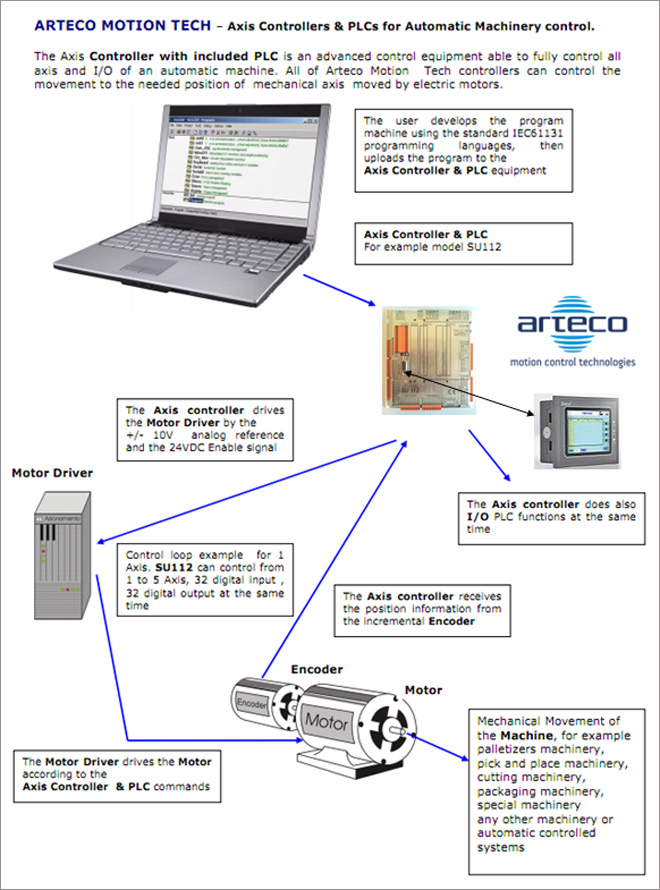 Motion Control Application example