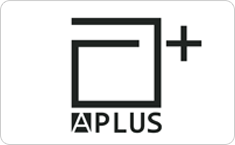 A PLUS
www.aplus.srl
A PLUS was established in 2018, but can rely on 30 years of experience. We inherited the history, the brand and the expertise of Apice, the Italian company acknowledged as leader in the market of access control and presence detection. As the past and the present perfectly match, A PLUS looks forward aiming at the innovation.
Thanks to our experience on the field, the company is able to produce intelligent and complex systems, provide for complete, reliable and cutting-edge solutions for access control, presence detection and building automation, and comply with any security need.
Access control
A PLUS have a number of technologies for the recognition of people in systems that ranger from badges to transponders, from licence plate readers to biometric identification and smart key lockers. The target installations can be both a simple automatic door opener and a vast systems that manages thousands of doors.
Presence detection
A dedicated workstation fully equipped to detect the presence of people the most simple and effective way and streamline the processing of payrolls.
Building Automation
A PLUS can automatize whole buildings providing complete, versatile and incredibly efficient solutions: with a sole standard communication network (LonWorks® technology) you can manage access control installations, but also air conditioning, lighting and many more hi-tech devices, which make it the best solutions to automatize the buildings of schools, firms and hotels.
More